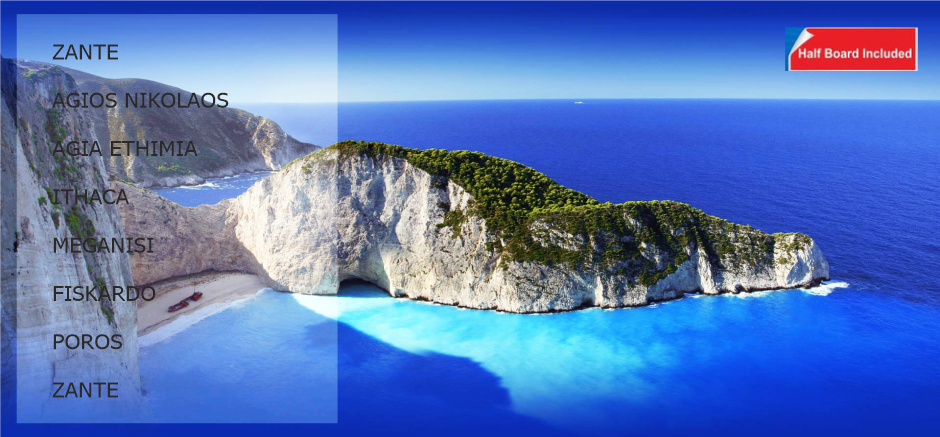 ---
---
The Ionian Islands are an emerald scattering of seven main islands – Zante , Kefalonia , Atokos , Ithaca , Corfu – found off the west coast of mainland Greece. The region is famed for pristine beaches, the unforgettable blue of the sea, and the lush Mediterranean landscape. Several lesser-known smaller islands make up this paradise cluster.
M/S APHRODITE– our beautiful motorized ocean vessel that can accommodate up to 16 passengers with 7 cabins – operates the Ionian Cruise. We will spend a week at sea, exploring the very best of this island cluster paradise, stopping in Poros Agia Efimia , VAthi , Fiskardo , Meganisi  in a round trip from Zante .
This trip is best suited for those who want to set sail for discovery, heritage and historical sightseeing, the best of nature and deserted beaches, on-deck sea-view unwinding and the friendly atmosphere of a small ship cruise.
The friendly crew will attend to all your needs along the way. There are freshly prepared meals (Breakfast and Lunch), and all cabins include a private bathroom and air-conditioning.
| | | |
| --- | --- | --- |
| SEASON 2021 | DEPARTURE DATES | Prices Include Half Board |
| A | 29 MAY / 05 JUNE / 11, 18, 25 SEP 2021 | 850.-Euro per person |
| B | 12, 19, 26 JUNE / 21, 28 AUGUST / 04 SEP 2021 | 950.-Euro per person |
| C | 03, 10, 17, 24, 31 JULY / 07, 14 AUGUST 2021 | 1.110.-Euro per person |
---
The Zante Cruise itinerary is subject to change dependent on weather conditions, difficulties at docking or unforeseen circumstances. This decision will be made solely at your captain's discretion, based on the safety of the group and the ship. Travel insurance is highly recommended before departing for a Greece sailing trip. 
When arranging your transportation, such as flights and on-ground transfers, please ensure you give yourself enough time in-between for the arrival and departure from your group.
Departure Day: Saturdays (In June, July, August and September)
Departure Time: 17:00 (Please try and arrive 30 minutes before)
Finish Time: 09:00 (On the following Saturday, docking at Zante)
Note: It is also possible to finish the trip on Friday evening, as the vessel will have already arrived in Zante by then.
---
7 nights accommodation on board
Buffet Breakfast daily
6 Lunches
1 Dinner + 1 Captains Dinner
Private beaches
Swim stops
Guided tour
Traditional ensuite ship
Free 3G Wi-Fi onboard ( subject to limitations )
Flights
Travel Insurance
Dinners
Local transportation
Excursions
---
---
DAY 1 SATURDAY / Zante - Agios Nikolaos
As today is the arrival day and we don't set sail from the Port until after sunset, you have plenty of time to explore the wonders of Zante Island.
If you have time to see more of the island, don't miss the chance to explore the Byzantine Museum, the National Marine Park in Laganás Bay.
In the evening, we get acquainted with our sailing home for the next few days and get settled in, starting by dining with a view of the ocean as we set sail towards Agios Nikolaos.
Note: On the rare occasion of any issues that may result from late arrivals, there is a possibility that we do not depart Zante the next day, and instead set sail on Monday morning.
---
DAY 2 SUNDAY / Agios Nikolaos - Agia Ethimia
The rainfall on the Ionian Islands is what enables its lush and verdant landscapes to flourish. Think of thick forests, natural coves, green hills with olive groves, and ardent valleys that sit back-to-back with crystal clear waters and sparkling white beaches.
In the evening, stroll the traditional Marina village and take your pick of Greek eats from the idyllic tavern-lined promenade, where you can watch the sunset.
We head towards Agia Ethimia.
Optional Tour : Day Cruise to Navagio
---
DAY 3 MONDAY/ Agia Ethimia - Ithaca (Vathi)
Nestled on the Ionian coastline of the Greece Mainland, Ithaca has been described as one of the region's most beautiful villages. This is because of its two crystal clear bays that line either side of its main town and the iconic Venetian fortress that forms an impressive backdrop. 
Known for its stunning natural environment that gives it an island feel. We will have lunch onboard, but stay in town for an evening of Greek feasting and hospitality.
Optional Tour : Odysseus Coach Tour
---
DAY 4 TUESDAY / Ithaca (Vathi) - Meganisi
Not many people know of Meganisi, overshadowed by the main island of Corfu, but you will be glad you got to experience this lesser-known beauty spot.
First, we fuel up with a lunch before stopping for some coastal relaxation time at some of the islands secluded. Go snorkelling in the turquoise waters, feel the pebbles under your feet, take a walk amongst the clifftop surroundings and visit the Town . 
We will dine at a pop-up beach tavern in a secluded bay tucked away from the crowds, and later watch the stars from the deck of the yacht.
---
DAY 5 WEDNESDAY / Meganisi - Fiskardo
With white pebble beaches, striking blue seas and lush green countryside, Fiskardo is one of Greece's best-kept secrets. We will dock at the port of Gaios ready for a full day on the island.
You can easily explore with a motorcycle, although it's also easy by foot, bike or car too. Spend the day seeking out the secluded coves and bays for swimming.
Watch the fisherman go about their work from one of the seafront cafes, before enjoying some of the best and freshest seafood at one of the excellent local tavernas that stock the best catch of the day.
---
DAY 6 THURSDAY / Fiskardo - Poros
Dotted with secluded bays and sea caves, with shallow waters for those keen to explore the underworld of the Ionian Sea, this part of Kefalonia Island is an explorer's dream.
Enjoy lunch on the vessel while we sail towards bustling Poros, the second largest village on the island set in a horseshoe bay to a backdrop of olive and cypresses trees. Visit the pebbled Kanoni beach and sandy Harami beach and wander amongst nature.
Later, stroll the vibrant promenade along the seafront. Full of bars and tavernas Poros is the epitome of old school Greek charm. We will dock overnight at a picturesque bay here.
Included : Captain`s Dinner
---
DAY 7 FRIDAY / Poros - Zante
Before we head back to the mainland of Zante Island, with free time to explore, we take the chance to fit in one more of Zante's long sandy beaches. We visit the beautiful Shipwreck Beach and village on the east coast of the island, enjoying an onboard lunch on the way for some final sweeping sea views.
We spend the night in the Marina of Zante Old Town, where we enjoy a Captain's dinner with the group in our final farewell.
Optional Tour : Wine Tasting
---
DAY 8 SATURDAY / Departure
As we come back in full circle to Zante, this is our departure day, where you'll say goodbye to your new friends and your crew. Hopefully, we have inspired you with this Greece sailing trip and hope to see you next year for more sailing around the Greek islands.
---
This itinerary may need to CHANGE due to inclement weather conditions, difficulties at docking or unforeseen circumstances. This decision will be made solely at your captain's discretion, based on the safety of the group and the ship.
---
Medsail Holidays does not only  provide you  with a fantastic time island hopping in the Greek Islands with our Wooden Gullets  – but we love to keep you entertained on shore as well. We offer a wide variety of additional excursions which will extend your experience of Greece and offer a different and exciting perspective of the ports you'll be visiting in the Ionian Islands.
The following excursions can be arranged when you first arrive on your ship , and depending on availability, can even be arrange during your cruise or when you book your spot online by pre booking excursions and receiving a discount . All excursions that are not pre booked are payable in cash locally with the service provider – so make sure you have enough Euros before you depart!
---
---
Navagio Beach, or Shipwreck Beach located on the northwest shore of the Ionian island Zakynthos, is an exposed cove, sometimes referred to as "Smugglers Cove". On 2 October 1980, a freightliner, the MV Panagiotis, ran aground in the waters around Zakynthos.
Island on Navagio Beach. It is believed that the ship was smuggling contraband due to bad weather conditions. The ship was abandoned and still rests buried in white sandy dunes of the beach that now bears the nickname Shipwreck.
Collaboratively with Theodosis, you will be able to reach the most spectacular base jumping location in the world, see the wreck and swim in the deep blue waters. Explore the best spot to take your selfie, which will remind you that you were once a part of this paradise!
Our departure point will be the port of Agios Nikolaos.
Starts at : 11:00 – 12:00
Duration : 2 hrs
Cost : 20.-Euro
Since antiquity, Ithaca has been identified as the home of the mythological hero Odysseus. Let's start an interesting journey which will lead us to his glorious life. You will have the opportunity to go back in time and admire some of the most characteristic sights of the island, such as: the bust of Odysseus, the palace of Odysseus, an illustration of his 10-year journey by Bruno Mazzali and the Archeological Museum at Stavros village. Let's escape from the beaten path and discover some of Ithaca's most hidden gems in a journey which combines myth and immortality. An experienced guide will be also there to introduce you to the history of Ithaca Greece. In this way, all the exhibits and the archaeological data that will meet in your way, will become more alive.
Available bus transfer from and to the capital of Ithaca, Vathi Port.
Starts at 17:00 – 20:00
Duration: 3 hrs
Cost : 40.-Euro
Captain's BBQ dinner at Poros,
No drinks are included
Starts at 18:00
Duration: 2 hrs
Cost : 20.-Euro
Giatras family started planting the first vineyards in the area where the Art wine winery is located today. It's the ideal place to introduce yourself to traditional wine making, and take a close look at the vines and the store rooms. Despoina and Eviana Giatra gladly explain (in English) the progress of this year's crop and answer your questions about grape cultivation and good wine. You can try any of the twelve zakynthian wine varieties offered and enjoy traditional treats. Discover Ionian varieties with a characteristic acidity and a light golden green color or with a more fruity flavor, suitable for all preferences. Art Winery is located at one of the most greenish areas of the Zakynthian countryside, a few kilometers away from the traditional settlement of Maries, where you can relax and have a unique experience.
Available bus transfer from the port to the winery and back again.
Starts at 17:00 – 19:00
Duration: 3 hrs
Cost : 40.-Euro
---