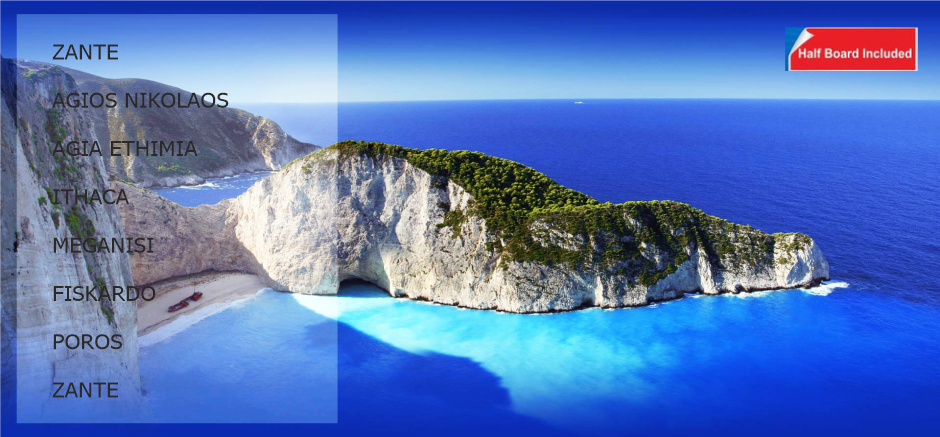 ---
---
The Ionian Islands, are an emerald scattering of seven main islands:
Zante, Corfu, Kefalonia, Lefkada, Ithaca, Paxoi and Kythira, which are located west of Greece's mainland.
M/S APHRODITE– our beautiful motorized ocean vessel that can accommodate up to 20 passengers with 7 cabins – operates the Ionian Cruise. The Zante cruise package includes spending a week at sea, exploring the very best of this idyllic island complex by stopping at Kefalonia, Ithaca, Atokos and Meganisi (Lefkada) while it is best suited, for those who want to set sail for an adventure, exploring heritage and historical sightseeing!
All cabins include comfortable mattresses, reading lights, a wardrobe, and an electric fan.
Additionally, their own A/C device, a hair dryer, and their own independent toilet with its own shower!
Our friendly crew will attend to all your needs along the way, and of course, our Chef will happily prepare your daily breakfast and lunch!
| | | |
| --- | --- | --- |
| SEASON 2024 | DEPARTURE DATES | Prices Include Half Board |
| A | 04, 11, 18, 25 MAY // 01, 08, 15, 22, 29 JUNE  // 07, 14, 21, 28 SEP // 05, 12 OCT | 900.-Euro per person |
| B | 06, 13, 20, 27 JULY // 03, 10, 17, 24, 31 AUGUST | 1.100.-Euro per person |
---
The Zante Cruise itinerary is subject to change, depending on the given weather conditions, due to different difficulties at docking or further unforeseen circumstances.
This decision will be completely up to the captain's judgment, based on the traveling group's safety and the safety of the vessel itself.
Travel insurance is highly recommended before departing for a sailing trip in Greece. 
When arranging your transportation, such as your flights and/or your local ground transfers, please ensure you give yourself enough time in-between, to be on time, for the arrival and departure, of your traveling group.
Embarkation: Saturday (May, June, July, August, September & October)
Embarkation Time: 17:00 (Please try and arrive 30 minutes prior)
Disembarkation Time: 09:00 (On the following Saturday,
Clients will have to pay 80 € p.p. ( local tax) cash prior to embarkation.
Solo traveler: If you want to have your own private cabin there will be an extra charge of 50% of the total amount for 1 person price.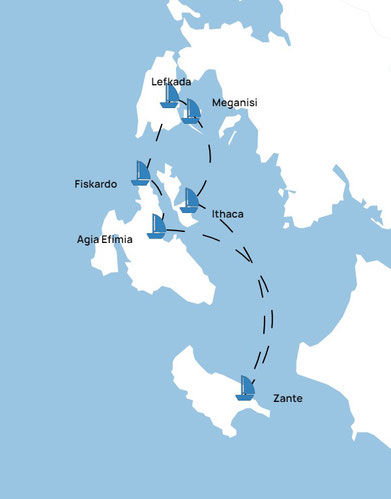 ---
Traditional ensuite ship

7-nights onboard

Daily breakfast and lunch buffets

Welcome & Captain's dinner

Private beach stops

Daily swim stops

Toiletries

A/C ensuite cabins 

(subject to limitation)

Wi-Fi 

(subject to limitation)
Due to our late arrival policy, in case of any actual late arrival, the vessel will not depart from Zante's port,at least not, until every supposed passenger is on board!
That is why in case of late arrivals, the gulet will depart on Sunday.
Flights and Hotels

Travel Insurance

Onboard dinners

Transportation, 

pre/post your cruise

Excursions/Activities
---
Zante Info Pack
For cruise, itinerary and further Zante-related information, you can check our officially updated Zante's info pack !
Zante.pdf
Adobe Acrobat Document
5.3 MB
---
---
DAY 1 SATURDAY / Zante - Agios Nikolaos
For the first day, as it is the arrival day, we won't embark from the port, at least not until 17:00,
thus in case you have arrived prior to the embarkation and have some time left, we suggest you roam around Zante's main port and enjoy some local Greek seafood, by one of the many local restaurants, located on the marina!
If you have plenty of time, be sure to check out the Byzantine Museum, as well, which is located in the heart of Zante's main town, the national Marine Park and the famous Lagana Bay strip!
In the evening, we set off for Agios Nikolaos, while we have our welcome dinner, on board!
Note: On the rare occasion, of any late arrival or complication, the vessel will most probably won't embark from Zante's port on Saturday, but on Sunday, instead!
---
DAY 2 SUNDAY / Agios Nikolaos - Agia Ethimia
On day two, we will be heading to Kefalonia's Agia Efimia, which is a traditional fishing village centered on a small harbor.
It contains a number of taverns, bars and shops, a traditional wood-fired bakery, as well as tourist accommodations and local residences.
In the evening, stroll through this beautiful, picturesque village and take your pick of Greek eats, from the idyllic tavern-lined promenade, where you can watch the sunset while enjoying your traditional Greek food!
---
DAY 3 MONDAY/ Agia Ethimia - Ithaca (Vathi)
On day 3, we will head to Ithaca, and Vathi specifically, which is Ithaca's most famous port.
While in Vathi, you will have the chance to explore its famous local markets, which are packed with Greek products/foods, souvenirs and other "goodies"!
Laying in between Kefalonia, and Lefkada, Ithaca offers a unique combination, of crystal-clear waters and dark green forest scenery!
---
DAY 4 TUESDAY / Ithaca (Vathi) - Meganisi
On day four, we leave Ithaca behind and we will sail to Meganisi, which many people do not know about, as this beautiful Island is often "overshadowed" by its complex main Island, Lefkada.
That said, we will enjoy our lunch onboard, as usual and we will look specifically for coastal relaxation at some of its many secluded bay coves, to anchor there and enjoy the beautiful Greek night sky!
---
DAY 5 WEDNESDAY / Meganisi - Fiskardo
With white pebble beaches, striking blue seas and its lush green countryside, Fiskardo is one of Greece's best-kept secrets.
On the fifth day, we sail to Fiskardo!
You can easily explore this town with a rental bike/car, bicycle or even on foot!
Watch the fisherman go about their work, from one of the seafront cafes, before enjoying some of the best seafood at one of the excellent local taverns, that stock the best catch of the day, the Island has to offer!
---
DAY 6 THURSDAY / Fiskardo - Poros
With plenty of secluded bays and scattered sea caves with shallow waters, this part of Kefalonia is every explorer's dream!
Enjoy your lunch on the vessel, while we sail towards bustling Poros, the second-largest village on Kefalonia.
Visit the pebbled Kanoni beach and sandy Harami beach and admire Greek nature, from up close.
Full of bars and tavernas Poros is the epitome of old-school Greek charm.
---
DAY 7 FRIDAY / Poros - Zante
Before we head back to Zante, we will visit the beautiful Shipwreck Beach and village on the east coast of the island, enjoying an onboard lunch on the way for some final sweeping sea views!
We spend the night in the Marina of Zante Old Town, where we enjoy a Captain's dinner with the group in our final farewell.
---
DAY 8 SATURDAY / Departure
As we have successfully cruised around Zante and its island complex, this is our departure day..
We say goodbye to each other, take some last photos and head back!
Hopefully, though, we will see you again. Until then, we wish you all the best!
---
This itinerary may need to CHANGE due to inclement weather conditions, difficulties at docking or unforeseen circumstances. This decision will be made solely at your captain's discretion, based on the safety of the group and the ship.
---
Medsail Holidays does not only  provide you  with a fantastic time island hopping in the Greek Islands with our Wooden Gullets  – but we love to keep you entertained on shore as well. We offer a wide variety of additional excursions which will extend your experience of Greece and offer a different and exciting perspective of the ports you'll be visiting in the Ionian Islands.
The following excursions can be arranged when you first arrive on your ship , and depending on availability, can even be arrange during your cruise or when you book your spot online by pre booking excursions and receiving a discount . All excursions that are not pre booked are payable in cash locally with the service provider – so make sure you have enough Euros before you depart!
---
---