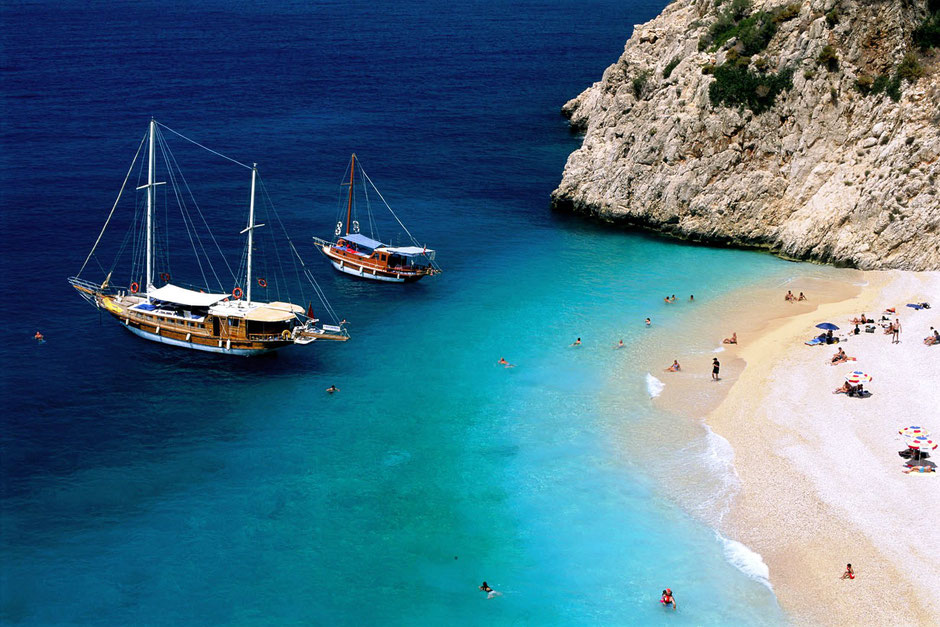 ---
You must have surely heard of the "blue cruise", one of the most popular holidays in Europe. What if I told you that it isn't only for the rich and famous anymore? What if I you could enjoy a perfect family vacation on your own private yacht?
The "Blue Voyage" or "blue cruise" is an idyllic time spent sailing, swimming, exploring ashore, while enjoying staying aboard a beautiful classic wooden yacht.
Most of the yachts are based in Bodrum, Turkey. Your blue cruise Turkey holiday usually begins here where the Aegean and the Mediterranean Seas meet. The itinerary can be as varied as your imagination. You can head north, to Kusadashi, Ephesus or you can go east to Marmaris and the Dylan river turtle sanctuary. The ancient port of Knidos is nearby, not to mention all the villages along the way to explore. You may also want to visit the popular Greek Islands of Rhodes, Kos or Symi.
To take a blue cruise Turkey holiday, we welcome you to charter one of our wooden yachts, called gullets, which follow an ancient design. They have four to eight double cabins, which is just perfect for a whole family vacation. All cabins have beds, heads/showers and many yachts are air-conditioned. The latest rage is a large 4 cabin design with two master and two guest's cabins.
We also offer a blue cruise Turkey holiday whereby you "charter" a cabin.  The yacht is booked just like any other cruise ship. 
If you wonder how life is going to be on board, just imagine how a night spent alone in a blue bay might be! Or an authentic Turkish disco in one of the villages along the way? The captain goes over your route daily and sees suggestions. Either you want a genuine Turkish bath or just a simple straight razor from a Turkish barber, the Captain will be right there to answer to all your desires.
And let's not forget another delicious aspect. There will also be a Turkish chef, who will prepare a fresh Turkish breakfast to satisfy all tastes, who will wait for you at lunch with delightful vegetable dishes, fruit salads and by night with a magnificent traditional Turkish dinner. The dinner will be preceded by many mezes (appetizers). Actually, we had a little girl genuinely ask "But how do they make vegetables so tasty?".
Also, all boats come with water toys. Kayaks, paddle boats, windsurfers, everything you want is already there or can be easily rented, so you and you whole family can enjoy the voyage to to the fullest. Sailing is part of the fun too.  Usually you sail or motor a maximum of 4 hours per day depending on wind and weather.
Details for Charting your Blue Cruise Turkey Holiday
The rental fee for the yachts range from $1000 to $4000 per day. This varies by owner, age and conditions of the yacht. The food/beverage charge is additional. Wines and other adult beverages may be stocked at grocery store prices. The company we use charges 65 euros per day per person.  Istanbul is easily reached by one stop from many US cites on British Air, Turkish or United Airlines, then onto Bodrum or Dalaman for your Turkey blue cruise. Greek taxes, tips and transfers are additional.
The man who makes this possible is Savas Ozel, the owner of Medsail Holidays and may be reached at info@medsailholidays.com  Please mention blue cruise turkey in your email.